Hi everyone! I've got some information to share about the Summer Camps I will be teaching this year. Both camps will be held at my home on Salt Spring Island, just a five-minute drive south of Ganges.

Summer Writing Camp
ages 11-14
July 7 – 11
10:00 am – 2:00 pm
$175
(Early bird deal: $165 before June 20)
This was a big hit with participants last year. Story ideas, character development, plot structure, dialogue, setting, genre, theme, style, and much more! Discussions about favourite books and movies, vocabulary builders, technical tips, games, exercises and prompts. Whether you are working on a project and need a little advice or are looking for inspiration to get started, this camp is for you.
Bring your own lunch, notebook and pen. (Computers ok too.)
"It was so much fun – I learned so much and I'm actually writing the book I've been planning to write for a long time." – Holly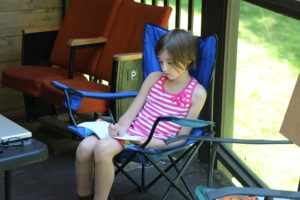 Junior Writers Camp
ages 8-10
July 14-18
10:00 am – 2:00 pm
$175
(Early bird deal: $165 before June 30)
For younger writers, this is a very active version of the older kids' camp, focussing on games, exercises, and storytelling, with a bit of acting, art and puppetry thrown in for good measure.  We'll make up crazy group stories and talk about our favourite books and movies. With a little less emphasis on actual words-on-paper than the older camp, this week is designed to get kids thinking about story, characters and plot in fun ways.
Bring your own lunch, notebook and pen. (Computers ok too.)