Summer Camps

Whenever work permits, I hold summer writing camps at my home on Salt Spring Island, just a five-minute drive south of Ganges. Sorry folks! No camps for Summer 2016! Other work just got in the way this year.
Summer Writing Camps

ages 10 – 14
1 week – Monday to Friday

10:00 a.m. to 2:00 p.m.
$175/week
(Early bird deal: $165)
This was a big hit with participants last year. Story ideas, character development, plot structure, dialogue, setting, genre, theme, style, and much more! Discussions about favourite books and movies, vocabulary builders, technical tips, games, exercises and prompts. Whether you are working on a project and need a little advice or are looking for inspiration to get started, this camp is for you.
Bring your own lunch, notebook and pen. (Computers ok too.)
"It was so much fun – I learned so much and I'm actually writing the book
I've been planning to write for a long time." – Holly
Junior Writers Camp
ages 8-10
1 week – Monday to Friday
10:00 am – 2:00 pm
$175
(Early bird deal: $165)
For younger writers, this is a very active version of the older kids' camp, focussing on games, exercises, and storytelling, with a bit of acting, art and puppetry thrown in for good measure.  We'll make up crazy group stories and talk about our favourite books and movies. With a little less emphasis on actual words-on-paper than the older camp, this week is designed to get kids thinking about story, characters and plot in fun ways.
Bring your own lunch, notebook and pen. (Computers ok too.)
To register or find out more info, please drop me a line!
After School Writing Club
During the school year I run an After School Writing Club for ages 10-14 at the Salt Spring Island Public Library. If you are interested in what we do, I post some of our exercises and discussions on my blog as we go. (Go to the right column there and click on Category: Writing Club) Read about our first meeting here. Plans are currently in the works for the 2014-15 school year… subscribe to receive my email newsletter with updates and announcements!
School Talks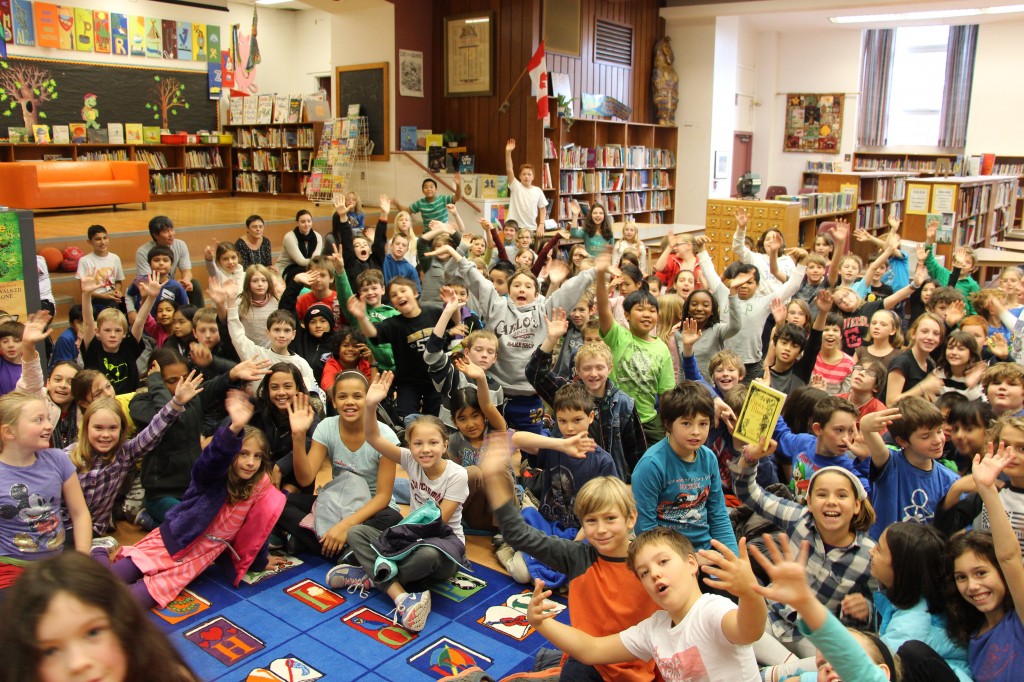 I am a member of the Writers' Union of Canada, which means that schools and other groups may be able to access grants to cover my fees, through the National Public Readings Program, the Ontario Writers-in-the-Schools Program, and the NPR Northern Program. See the Writer's Union website for more information.
I give school talks on various topics:
Storytelling – K to Gr. 4 – Basic building blocks of a story: Characters, Location, Event, Stories are Everywhere, Different Kinds of Writing Jobs, Learning to Write Well, Reading, Being a Writer
Eldritch Manor  – Gr. 3 and up – Description of Eldritch Manor and a short reading, a little bit about High and Low Fantasy Genres and Classical Mythology, Where Ideas Come From, A Shameless Pitch for Reading everything-you-can-get-your-hands-on
Cartoons – Gr. 4 and up – How television cartoons are made, Different Jobs and Stages of Production (with Sample Designs and Storyboards), Different Kinds of Animation, Experimental Animation, DIY Animation Today!
Writing Skills – Gr. 5 and up – Importance of Writing Well/Different Writing Careers, Basic building blocks of a story, How Exactly Does One Go About Writing a Novel?, Character Development, Know Your World: Location and Genre, Story Structure, Technical Mastery, Writing for Different Media and Different Audiences
These are just guidelines of course, I can alter my talk to suit the interests of the group. I can also pitch my talk appropriately for various ages, though the ranges given above are the best match for the material.
Talks for Grownups (or Reasonable Facsimiles Thereof) – Writing Books for Children, Writing Children's Television, How Exactly Does One Go About Writing a Novel?, the Writer's Life: Procrastination and Far Too Much Coffee
Please contact me directly by e-mail for further information or to arrange a reading or presentation.
I am based on Salt Spring Island, BC, with frequent forays to Victoria and Vancouver. Subscribe to this site for updates whenever I venture further afield!
Also: Eldritch Manor

Teacher's Guide
Dundurn provides a free download-able Teacher's Guide: Grade 5 or 6 for Eldritch Manor here.