Eldritch Manor



176 pp.
ISBN 978-1-45970-354-4
12-year-old Willa Fuller is convinced that the old folks in the shabby boarding house down the street are prisoners of their sinister landlady Miss Trang. Only when Willa is hired on as housekeeper does she discover the truth, which is far more fascinating:  Eldritch Manor is a retirement home for ancient creatures of myth and legend, including a fairy, centaur, mermaid, and androsphinx, as well as other, exceedingly miscellaneous beings. All have stories to tell, and petty grievances with each other and the world at large. Storm clouds are on the horizon, however, and when Miss Trang departs on urgent business Willa is left to babysit the whole cantankerous bunch. Can she keep the oldsters in line, stitch up unravelling time, and repel an all-out attack from the forces of darkness… all while keeping the nosy neighbours out of their business? Willa braves all and emerges triumphant, in the process uncovering a startling secret about her own past.
A fantasy novel for young adults. Released September 2012 by Dundurn Press.
Order your copy today:
Reviews
"a fast paced adventure fantasy… Recommended … 3/4 stars" – CM Magazine, June 1, 2012 (see full review here)
"… Eldritch Manor is a delightful addition to the [fantasy] genre and deserves to reach a wide, appreciative audience." – Quill & Quire, September, 2012 (see full review here)
"I am a grade five teacher who has just read your book, Eldritch Manor to my class. They loved it! WOW! They are asking for more…. maybe a second book! Congratulations! It is hard to find books that both boys and girls are interested in as a class. Thinking of doing a book study on it for next year.
Thanks for the great read!" – Sue
"… this was an awesome read — when I was finally able to read it. My twelve-year-old daughter snatched the book away after reading the first chapter over my shoulder. I didn't see it again for a while. So if you have a fantasy lover, put a little Eldritch Manor in their stocking this Christmas, and when they are done reading have a crack at it yourself." – Open Book Toronto, November 21, 2013 (see full review here)
---
Shadow Wrack
book 2 in the Eldritch Manor Series
CCBC's Best Books for Kids & Teens (Spring 2016) — Commended
After defeating the forces of evil in Eldritch Manor, Willa must rebuild the manor — and her family.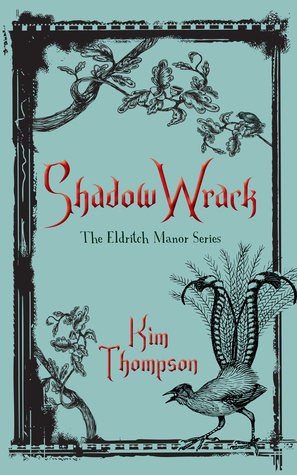 Can Willa rally her supernatural friends to defeat an invasion from beyond?
After battling and defeating the forces of darkness, Willa is looking forward to a little well-earned peace and quiet. Unfortunately, her recent adventures have given birth to new problems, not the least of which is the task of rebuilding Eldritch Manor, a retirement home for supernatural beings, from the ground up. And no one is behaving themselves: Mab's fairies have declared war on the dwarf construction crew, Willa's Mom and Belle are feuding, Baz is running amok, Horace is living in the woods, the phoenix squawks all night long, and there's never a dragon around when you need one. To be perfectly honest, Willa is starting to think the forces of darkness were easier to handle than her family and friends — until those forces start to rise again!
Trouble is definitely brewing, and the source lies very close to home, Who can Willa trust? Who will betray them? Who will open the door for the darkness to enter?
Reviews
A must-purchase where there are fans of the first book and a solid series addition to most middle grade fantasy collections. – School Library Journal
This fast paced, often wildly amusing novel will grip the intended audience…an inspiring novel that will attract both girls and boys who will be unable to put it down. – Resource Links
---
Darkling Green
book 3 in the Eldritch Manor Series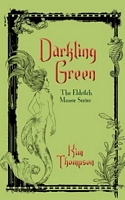 As spring comes to Eldritch Manor, Willa deals with the King of the Fairies, a terrifying creature, and the usual family drama.
Spring comes to Eldritch Manor, bringing with it all kinds of mayhem. The arrival of the King of the Fairies throws the resident fairies into a romantic tizzy. Mab neglects her knitting, resulting in holes in time through which any manner of evil can enter their world. Nature, weather, and time itself are all out of whack, and everyone is freaked about Willa's upcoming "unlucky" thirteenth birthday. On top of everything, Willa makes a shocking discovery about her mother, which supports Belle's claim that Willa is part mermaid!
Willa is plagued with questions. How can she be a mermaid if she doesn't have a tail and is terrified of water? How long do dragons hibernate? Why are there time holes in the pool, and where do they lead? Why are the backyard plants invading the house? And why does she keep dreaming about a sinister Green Man?
Reviews
"… thoroughly accessible and appealing to readers of all ages… Part fantastic adventure, part coming-of-age story, Darkling Green is especially recommended for the fantasy collections of public and school libraries." – Midwest Book Review
Save