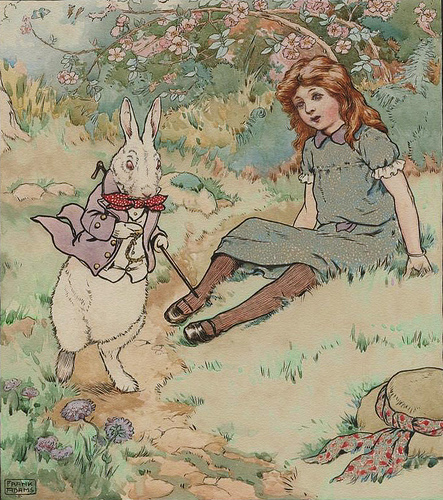 What creepy little gem do I have for you today? Lewis Carroll's Alice in Wonderland, no less, or at least the film version made in 1988 by Czech animator Jan Svankmajer*. Titled simply Alice, this film gives the old story a stunningly bizarre industrial-age twist.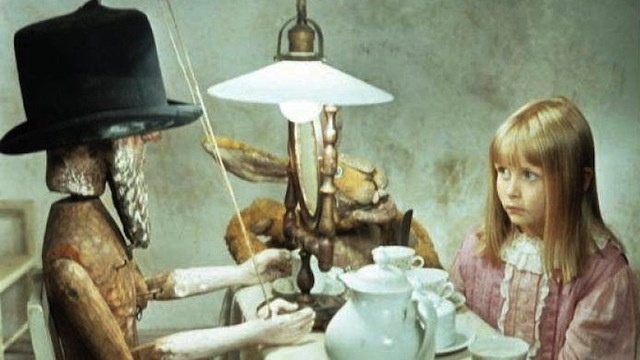 Carroll's tale was already a bit nightmarish, and Svankmajer has certainly taken that element and run with it. You know how it starts, with Alice in a lovely forest following the white rabbit? Here's how Svankmajer reimagines it:
Check out that rabbit! Yikes!
Here's another, truly eldritch scene:
It's about time that taxidermy played a larger role in children's entertainment, don't you think?
Svankmajer is quoted here talking about the film:
So far all adaptations of Alice (including the latest by Tim Burton) present it as a fairy tale, but Carroll wrote it as a dream. And between a dream and a fairy tale there is a fundamental difference. While a fairy tale has got an educational aspect, it works with the moral of the lifted forefinger (good overcomes evil), dream, as an expression of our unconscious, uncompromisingly pursues the realisation of our most secret wishes without considering rational and moral inhibitions, because it is driven by the principle of pleasure. My Alice is a realised dream. (interview, Electric Sheep Magazine, June 2011)
* Jan Svankmajer was a tremendous influence on the Brothers Quay, whose animation I posted in a previous Weekly Eldritch
Related: