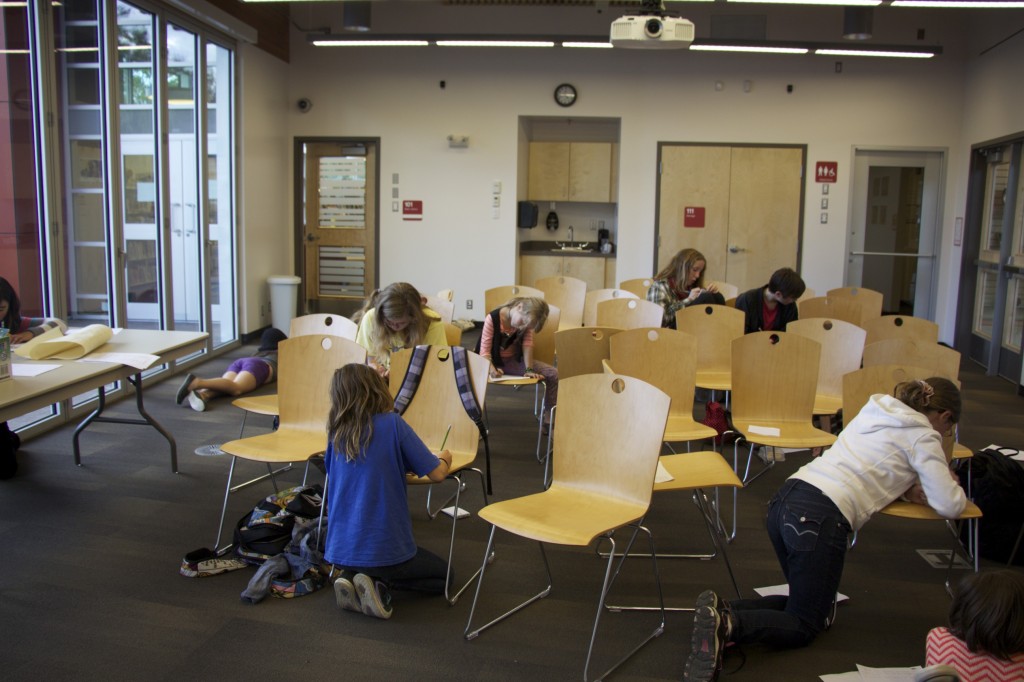 We had an excellent first meeting at the library on Monday. Having a room full of energized, motivated writers was a lot of fun. (And exhausting!)
I'd like to share some of what we talk about at these gatherings. (I'll group them in the category "Writing Club" for easy reference.) This week we began with introductions, then got right down to work —
5-minute Prompt: WATER
This is a 5-minute, stream-of-consciousness exercise, write whatever pops into your brain on the topic of water. Don't bother with sentences, paragraphs, or punctuation. Just write.
It's always interesting to see what people come up with for this exercise. Look over what you've got when you're done. Mostly nouns? Any adjectives in there? How about verbs? Have you covered all the senses? (what water sounds like, smells like, tastes like, feels like) We tend to priorize sight over all the other senses…
New Words
An extensive vocabulary will serve you well in your writing. Always be on the lookout for new, unusual, useful words. Like…
Serendipity – a "happy accident" or "pleasant surprise"; a fortunate mistake. Specifically, the accident of finding something good or useful while not specifically searching for it.
The first noted use of "serendipity" in the English language was by Horace Walpole (1717–1797). In a letter to Horace Mann (dated 28 January 1754) he said he formed it from the Persian fairy tale The Three Princes of Serendip, whose heroes "were always making discoveries, by accidents and sagacity, of things they were not in quest of". The name stems from Serendip, an old name for Sri Lanka (aka Ceylon), from Arabic Sarandib.
(Thank you, Wikipedia!)
Writing Tip
And now I give you my Number One Tip for writing well. Ready for a pain-free, boredom-free, endlessly entertaining way to master proper grammar and accurate spelling? Yes? You're sure? Here it is: READ BOOKS! READ LOTS OF BOOKS!

If you don't have time to read, you don't have the time (or the tools) to write. Simple as that. – STEPHEN KING

Book Share
This is where we share our favourite books. I'll start this off with Half Magic by Edward Eager. It was my absolute favourite book when I was in grade 4 or 5. It's about children who find half of a magic coin, and then must figure out the complicated rules of the coin's power. I liked this book because the siblings squabble like real kids (I have three siblings, so I consider myself an expert on this), and because it has magic in it, but magic that never really works the way you expect it to. This of course keeps the story going in funny and unexpected directions.
15-minute Springboard Prompt
This is where I give you the first sentence of … a story/paragraph/scene/whatever. Use it to launch yourself into your narrative. Just write what comes next. If you really like where it takes you, consider expanding it into a full story. Here's the Springboard:
From the moment the moving van pulled into the driveway, I knew our new neighbours were pretty unusual.
Discussion
This week is Banned Books Week, so I shared some kids books that have been banned from school libraries over the years. Did you know that Where's Waldo has been pulled from school shelves? How about The Lorax, or Harriet the Spy, or Bridge to Terabithia, or The Adventures of Huckleberry Finn, or The Wonderful Wizard of Oz, or Where the Wild Things Are? Did you know that Captain Underpants heads the list of Most Challenged Books of 2012?
I just wish we'd had more time to talk about the issue of adults deciding what kids should and should not read. Our group got pretty riled up about it! (Just imagine a childhood without Harry Potter or Lord of the Rings!)
Learn more about Banned Books:
New York Times opinion piece discusses the Waldo ban and others
Banned Books: A School Librarian's Perspective
NPR: Unapologetically Harriet, the Misfit Spy
Of course the best way to celebrate Banned Books Week is to read a banned book. I've started reading Invisible Man by Ralph Ellison, which was pulled from high school shelves in North Carolina just last week. (Today I read a followup about this brilliant action to protest the ban.)