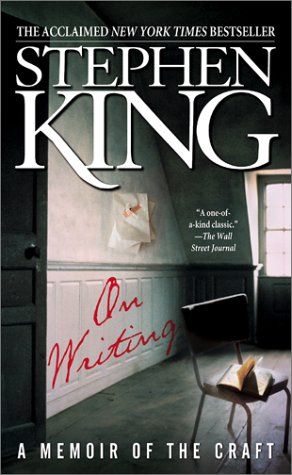 I've been having trouble getting going on a book… getting stuck – procrastinating – doing other things – napping – getting stuck again… you get the picture. So today I revisited notes I took while reading Stephen King's great book On Writing.
He says that the first draft of a book should take no more than three months. He aims for ten pages a day, or 2,000 words. Some days he's done by 11:30 am, other days it can take him until 1:30. And all he needs is a "serene atmosphere".
So my atmosphere here is pretty serene, ridiculously serene even. I should have no excuses!
I don't get to write every day – I've got a lot of projects on the go right now – but by keeping my goals humble (1,000 words per working day, 3 or 4 days a week) I hope to have the first draft of a sequel to Eldritch Manor done by the end of January. Of course I also have going for me the fact that a YA novel is way shorter than one of King's books!
I also have as a secret weapon an Outline, one I've been pondering and building on for a year or more. That's enough time to percolate… now I'm going to get to work!
After the first draft is done, he recommends setting it aside for six weeks and not looking at it or talking about it. Once you're thinking of new projects and immersed in other things, then it's time to pull it out, get reacquainted, and get back to work on it.*
I love having a plan! (Today's 1,000 words – check!)
* Stephen King, On Writing (New York: Scribner, 2000), pp. 154, 211-212.