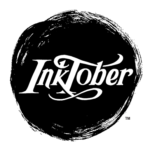 Inktober happens every October, it's an online challenge to post a drawing every day for a month.
Now, I'm no artist, but I'm not afraid of drawing. I'm not one of the many people who decided "I can't draw" at some point in childhood and except for Pictionary never doodle again. I can draw but I hardly ever draw. The only reason I even considered doing Inktober is that I have a daughter who is a dedicated/obsessive artist and loves online challenges. She jumped on the Inktober bandwagon so I did too. As other artists laboured over their work, composing, sketching, inking, colouring and shading, I sat on my bathroom floor for fifteen minutes every night drawing faces I saw in my floor tiles. (Yes, the hashtag #facesinmyfloortiles is inhabited by nobody but me.)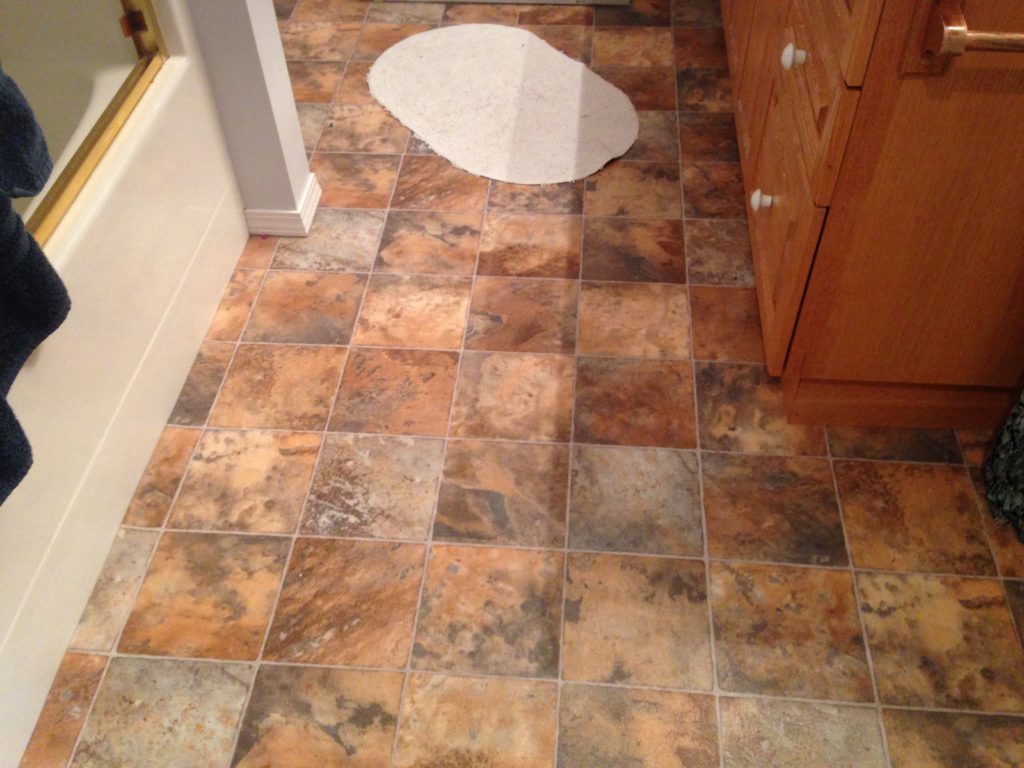 The same weird tiles cover the main hall and kitchen as well. We've been in this house for five years, and all that time I've been staring at bizarre faces, animals, ghosts, machines and skulls in these faux-marble patterns. I always thought I should try drawing them and  Inktober seemed like a good excuse to finally do it. I knew the only way I could come up with that many drawings was to not spend too much time on them, so I didn't sketch or erase, I just sat down, found a good face, drew it at once with a cheap felt pen, and posted it to Instagram.
The more I stared the more faces popped up at me, new ones overlapping the old. I could draw them for a year and still see someone new every day. And the more I looked for faces in the floor, the more I saw everywhere else: in rug designs, in tree branches, in herringbone and other fabric patterns, in the random arrangement of objects or the shapes of industrial fixtures and buildings. Everywhere!
This is an instinct – we are hardwired to see faces. Even newborns look longer at shapes in a face-like configuration than those randomly arranged*. This has been noted in infants less than an hour old – as soon as 9 minutes after birth!** From the very beginning we are looking for faces in the world around us. Searching for allies.
Even though I do not expect to find any useful allies in my ugly linoleum floor, they continue to pop up.
I kept it quick and painless and managed to post every day of Inktober! Yay me! It was kind of nice to put pen to paper. And every night after posting I enjoyed viewing the work of other dedicated Inktoberists – I love the wide variety of vision and skill on display! Amazing work!
Moving on into November, my obsessive offspring is now agonizing through Nanowrimo: National Novel Writing Month, another online challenge. Not me. The last thing I need right now is to start another writing project. Besides, I gave Nanowrimo a try once, and it was absolutely brutal. No, instead I will continue with my projects-already-in-progress, and happily play the supportive role for her efforts: making tea, serving snacks, and offering advice, but only when asked for. (I'm no fool. She's eleven. This is a potential minefield.)
I may pick up my sketchbook from time to time. There are still a lot of characters looking up at me from the bathroom floor.
If you are interested in the full set of 31 #facesinmyfloortiles and any further ones I might add in the future, check out that hashtag or my Instagram account @kimlauriethompson.
_________________
And because I am a nerd, here are the references for those wild assertions about newborns:
*Gelman, Susan A. and Opfer, John E. "Development of the Animate-Inanimate Distinction", Blackwell Handbook of Childhood Cognitive Development. Goswami, Usha, ed. (Oxford: Blackwell Publishing, 2002) p. 151.
**Puckett, Margaret B. and Black, Janet K. Understanding Infant Development. (St. Paul, Minnesota: Redleaf Press, 2007) p. 47.
Save
Save
Save
Save
Save
Save
Save
Save
Save
Save
Save