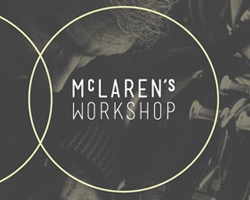 Just a couple of weeks ago I was talking about Norman McLaren, animation visionary at the National Film Board, and now the venerable NFB has released a truly awesome app: McLaren's Workshop. And it's free! I couldn't download it fast enough!
Not only does the app include over 50 of McLaren's films to watch, along with some biographical info and documentary material, it also allows you to very simply* create abstract animation with a limited collection of shapes in the style of one of the films (Le Merle).
The basic app is free, but there are extra in-app add-ons for purchase ($2.99 each) which allow you to mimic scratching images onto black leader and play with musical tones.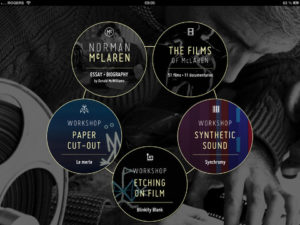 My daughter went crazy with this app right away, but I finally sat down myself last night and – as limited as the shapes are – I found it really fascinating to move them around so easily and experiment with creating smooth motion. Every time you click to the next frame and move a shape, it shows ghost images of the shape's position in the last two frames, which is a huge help.
This one is, as the Cartoon Brew review below puts it, a no-brainer to get for anyone with even a passing interest in animation. And if you only download it to watch McLaren's films, it's still a must-have!
* Simple and intuitive: my daughter is 7 and she's created four films already, without an iota of help from me.
Related Posts
a more detailed review of McLaren's Workshop from Cartoon Brew
iTunes Preview: McLaren's Workshop